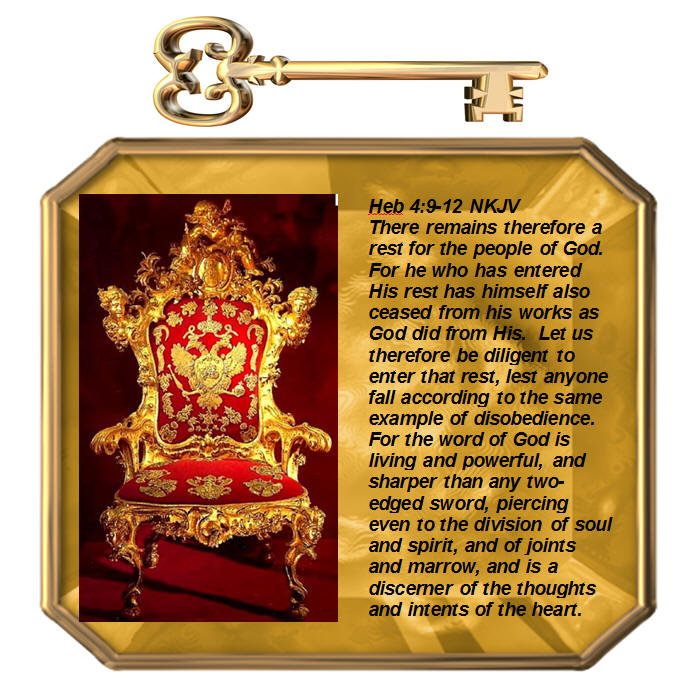 SITTING, A NEW LEVEL OF AUTHORITY
Dear heart, I AM wanting to bring you into a new level of authority. Yes I have taught you to stand against the wiles of the devil, withstand the evil day and having done all, to stand. However there is a higher level of authority that is necessary and needed for the days to come. This high place of authority is not in standing, but in sitting.
You have My immortal, incorruptible seed implanted within you, and you are Mine. As My child, it is your destiny to sit with Me on My throne and rule and reign with Me. The only way to come into this Sabbath resting place is to lay down your own strivings in all walks of life, and enter into the obedience of scripture, and accept My Sovereignty in everything. Come dear one, enter into My Sabbath resting place, where you hear My Word and then you dispatch it with My authority.
Heb 4:9-12 NKJV
There remains therefore a rest for the people of God. 10 For he who has entered His rest has himself also ceased from his works as God did from His. 11 Let us therefore be diligent to enter that rest, lest anyone fall according to the same example of disobedience. 12 For the word of God is living and powerful, and sharper than any two-edged sword, piercing even to the division of soul and spirit, and of joints and marrow, and is a discerner of the thoughts and intents of the heart.
Eph 2:4-8 NKJV
But God, who is rich in mercy, because of His great love with which He loved us, 5 even when we were dead in trespasses, made us alive together with Christ (by grace you have been saved), 6 and raised us up together, and made us sit together in the heavenly places in Christ Jesus, 7 that in the ages to come He might show the exceeding riches of His grace in His kindness toward us in Christ Jesus.
Rev 3:21-22 NKJV
To him who overcomes I will grant to sit with Me on My throne, as I also overcame and sat down with My Father on His throne. 22 "He who has an ear, let him hear what the Spirit says to the churches.